There were 52 participants in both sessions. The training conducted for FEFA master trainers from field offices.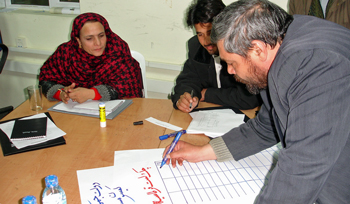 Participants found this module very interesting and useful especially;
Training Strategy;
Designing ballot paper;
Material cycle;
Choosing Polling and Counting locations;
Operational Planning and Need Assessment;.
Many of the participants came to the workshop with the opinion that Election Preparation issues only relate to EMBs; not other stakeholders. At the end of the course they understood the importance of each topic in this module they participated very actively in working groups and discussions.
Seven national Semi Accredited Facilitators were involved in conducting the training sessions under supervision of one national full accredited facilitator.